Former Prime Minister Amama Mbabazi was reportedly forced to leave a London hotel after a group of Ugandans staged a protest outside demanding that he returns home.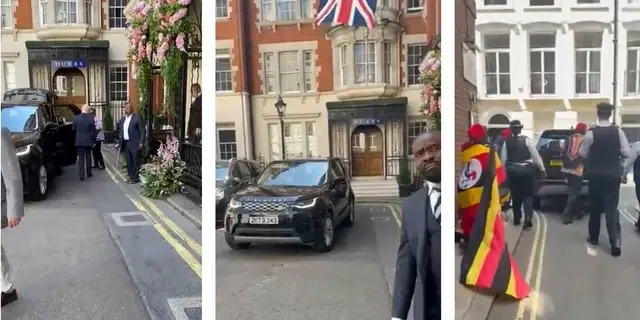 Mbabazi has been staying at the Dukes London hotel. Last week, a video of him walking with difficulty outside the hotel went viral and sparked wild rumors about his health.
He later clarified that he was recovering from a back ailment and he was busy doing his diplomatic work.
However, last Friday, a handful of Ugandans living in the UK stormed this hotel to demand that he leaves.
Draped in British and Ugandan flags and with berets associated with the opposition NUP party, the protesters numbering about five camped outside the hotel with a megaphone shouting at the former Premier.
Police and hotel security prevented them from accessing the main entrance.
They chatted "Go back to Uganda," and "Why are you having treatment here?" Others claimed that Mbabazi was involved in the murders and other human rights abuses in his home country.
Mbabazi together with his daughter Nina later emerged from the Hotel. He stopped briefly, glanced at the protesters and waved at them before he got into a waiting Range Rover and was driven off.
One of the people who shared the video of the incident claimed that Mbabazi had been requested by the hotel to leave because other guests complained about the protest. This however couldn't be immediately verified.